Big Island Hawaiian Music Festival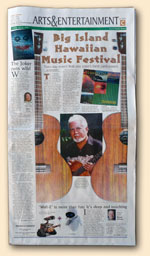 Two-day event features state's best performers
This weekend is one many wait for all year, as the East Hawaii Cultural Center hosts the 19th Annual Big Island Hawaiian Music Festival.
The two-day event features ukulele and steel guitar on Saturday and slack key guitar on Sunday. The festival runs from noon-6 p.m. both days at the Hilo High School Auditorium. Adult tickets are $15 each day with youth ages 16 and under admitted free. Tickets are available at EHCC, CD Wizard, Hilo Guitars & Ukuleles and at the door. There are also two ukuleles and a guitar as door prizes, provided by Hilo Guitars & Ukuleles.
The musicians are a generous mix of established artists and up-and-comers, including Cyril Pahinui, Ozzie Kotani, Sonny Lim, John Keawe, Diana Aki, Keoki Kahumoku, Darlene Ahuna, Ben Kaili, Stephen Inglis, Kristopher Fuchigami, Dwight Tokumoto, David Heaukulani, Harold Kama Sr., Ikaika Marzo and Sean Robbins.
*
Keawe, a singer/songwriter/guitarist and multiple Hoku award winner from North Kohala, was on the CD Slack Key Guitar Volume 2 -- which in 2005 won the first Grammy award for Hawaiian music -- as were Lim and Kahumoku. He has a new CD released earlier this month titled "Hawaii Island is My Home" and will take the stage fresh off a month-long West Coast tour. The Tribune-Herald caught up with him in San Diego, where he was stationed during his four year stint in the U.S. Navy between 1968-72.
"I don't recognize too much here anymore," Keawe said about the explosive growth of San Diego, which is now California's second most populous city. He noted that he has played there twice before, opening for Keola Beamer. Nowadays, Keawe headlines his own tours.
"It's a little scary," he admitted. "When you're opening for someone, you probably do about 20 minutes, but now I do two full sets of my own."
Keawe, who plays regular gigs at the Kona Village Resort and Kings Shops in Waikoloa, and semi-regular gigs at Bamboo Restaurant in North Kohala and the Kona Brewing Co., used the computer to promote his tour.
"I've made a lot of fans and friends just playing on Hawaii Island," he said. "So before we go on tour, we start spreading the news, sending e-mails to people we've met at the hotels and at the Bamboo. Our dates so far have been pretty close to full. I had 200 people show up in Seattle. I had been scared because Kealii Reichel had a show the same night up there and I thought, 'Uh oh. I'm going to get nailed.' We had a good turnout and I was very happy. It's been much the same everywhere we went. We've had good turnouts."
The tour, he said, has gone well, despite a shaky start.
"I started my tour in Seattle," Keawe said. "I got to Seattle July 4 and my guitars weren't there. They stayed in San Francisco and missed the connecting flight. I claimed them as missing, showed them the (baggage check tickets) and they went on the computer and found them. They said (the guitars) were in San Francisco and they'll be here tonight. ... Sure enough, about 8 o'clock that night, somebody knocked on the door with my two guitars, thank God."
The guitars are both handmade custom models, one by Kohala luthier David Gomes, the other by Kona luthier James Goodall. Fortunately, Keawe's Seattle show wasn't until the following day. He admitted to being "upset, nervous, and not too good to hang around" before the instruments arrived safely, adding that his wife Hope, who dances solo hula in his show, helped to keep him calm.
"I always have Hope," he quipped.
Keawe has been visible lately, as a spokesman on TV public service announcements promoting recycling, appearing with Hope and two of their grandchildren.
"The people who were shooting (the spot) had used my music for something in the past," he said. "They called me up and ... asked if I wanted to be a part of it.
" ... I was into recycling already, so that helps."
Keawe's new CD was released earlier this month and is already in stores. It was recorded at Charles Michael Brotman's Lava Tracks studio in Waimea with Charles Recaido of the guitar trio Kohala as engineer, and Lim, who played steel guitar three decades ago for the Makaha Sons, providing the same service instrument to the mix. Keawe notes that he's looking forward to coming home to Hawaii Island and playing some new music at the Hilo festival.
"I'm very pleased with the CD," he said. "It's a nice representation of Hawaii Island. I'm tired of people calling it just the 'Big Island.' This is Hawaii. It's Hawaii Island. That's what makes my heart feel aloha, when I say I'm from Hawaii Island."
On the Internet: http://www.ehcc.org; http://www.johnkeawe.com
E-mail John Burnett at jburnett-@hawaiitribune-herald.com.