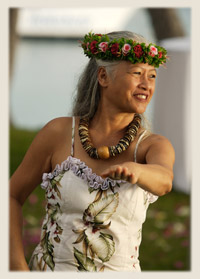 Hope Keawe was born and raised in North Kohala on the Big Island of Hawai`i. She attended school in North Kohala and transferred to Farrington High School on Oahu during her senior year. She comes from a family of 8 children, all of whom reside in Hawai`i .
Hope met John in 1972 upon his return from the US Navy and they were married on October 20, 1973. They have 3 sons and at last count –- 9 grandchildren!
Hope has worked at various jobs through the years and currently is the Health Nurse Aide at Kohala Elementary School.
She loves music and is active in the music ministry at the Sacred Heart Catholic Church. As a child, she took hula lessons for a while and did not take it up again until 1996 under kumu hula Rayleen Lancaster. Since then, Hope has blossomed into an elegant hula dancer and has become an integral part of John's performances by providing beautiful interpretations of his original compositions as well as traditional Hawaiian songs.